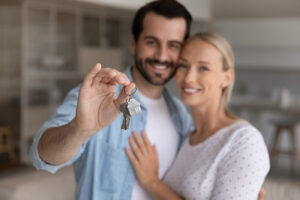 Homeowners 55+ can use a Reverse Mortgage as a down payment.
In our challenging times and expensive market, gifting funds to children and grandchildren has become an increasingly popular option
To put it bluntly, the market – especially over the last few years – presents a greater challenge for first-time home buyers, than we have seen in our time. The average price of a home in Canada has risen by approximately 60%, and for many what used to be thought of as a normal rite of passage is quickly becoming a pipe dream.
However, another emerging trend has kept pace with the continued rise in housing prices: the willingness of The Bank of Mom and Dad – or The Bank of Grandma and Grandpa – to help their adult children or grandchildren achieve the ability of homeownership. First-time homebuyers are being gifted increasingly large sums of money for their down payments, with 30% of Canadians receiving at least some financial help from their families in 2020. The average gift for first-time homebuyers reached a record high of $82,000 in 2020, compared to $52,000 in 2015.  But first-time buyers are not the only ones receiving support: just under 9% of "mover-uppers" also received help, with the size of the gift rising sharply to hit $128,000 in 2021.
A benefit has emerged from the frenzied market that has buoyed existing homeowners' equity and expanded the opportunity to leverage the reverse mortgage option. A Reverse Mortgage allows Canadian homeowners aged 55+ to access up to 55% of their home's value as tax-free cash with no monthly mortgage payments required. You can use your reverse mortgage as a down payment gift for family members.
While there are no limits to how much one can give with a reverse mortgage as a down payment and there's no gift tax on the amount, lenders may require proof via bank statements that the funds came from the gifter's account. The critical point the gifter must legally certify is that the money is provided with no expectation of repayment, which is typically done through a mortgage gift letter that should also include: the name of the recipient and of the gifter; the relationship between the two; the amount of money gifted; and the date of the gift. These forms are readily available from your broker.
Got more questions about reverse mortgages? Check out these top 5 questions people ask about reverse mortgages.